Introduction: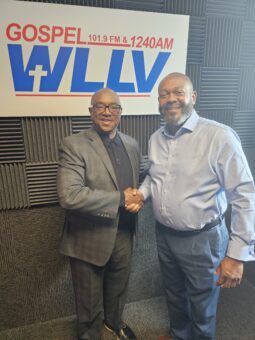 Welcome back to Russell on the Move! In this episode, we had the privilege of speaking with Brother Scott Love, the Executive Director of LISC (Local Initiatives Support Corporation) Louisville. LISC is a national organization aimed at addressing wealth disparities and economic inequalities. Scott Love shared valuable insights into LISC's work and their ambitious 10-year, $1 billion initiative to narrow racial disparities in health, wealth, and opportunity. Join us as we delve into the key discussion points from our conversation with Brother Scott Love.
Understanding the Importance of Black Leadership:
In our conversation, Brother Scott emphasized the significance of black leadership in addressing the challenges faced by the BIPOC (Black, Indigenous, and People of Color) community. He highlighted the value of lived experiences and the elimination of the need for training on the black experience, making black leaders uniquely positioned to bring about meaningful change. Scott emphasized that empowering black leaders is crucial for dismantling existing structures and fostering positive transformation within communities. Brother Scott remarked on the significant number of organizations in Louisville that are led by black executives—an accomplishment that is unprecedented and deserving of pride. This concentration of black leadership in our city fosters a deeper understanding of the challenges faced by the BIPOC community and enables leaders to address these issues effectively.
LISC's 10-Year Economic Empowerment Initiative: Project Ten X:
LISC Louisville is embarking on a 10-year, $1 billion initiative called Project Ten X. This initiative aims to narrow racial disparities in health, wealth, and opportunity within communities of color. By focusing on capital infusion, grantmaking, and technical assistance for homeownership and family wealth, Project Ten X aspires to expand economic opportunities and create lasting, positive change. During the interview, Brother Scott shed light on the various ways that Project Ten X is working with partners to advance equity and economic empowerment. LISC is committed to enhancing homeownership and fostering family wealth that not only encourages economic independence but also strengthens communities and promotes economic mobility.
The AmeriCorps VISTA Community Impact Ambassador Program:
LCCC, in collaboration with AmeriCorps VISTA, offers an opportunity for community members to become VISTA Community Impact Ambassadors. These ambassadors work closely with local leaders, residents, and organizations to empower the Russell neighborhood. By focusing on poverty and inequality, these dedicated individuals aim to create sustainable solutions and build a stronger and more vibrant community. To learn more about the opporunity to become a VISTA C.I.A., contact LCCC at (502) 583-8831 or dgrant@lcccnews.org.
Celebrating 75 Years of Louisville Central Community Centers:
The Louisville Central Community Centers (LCCC) is celebrating our 75th anniversary, and they have launched the 75 Year Challenge and Pledge campaign. To support the families we serve, LCCC encourages people to pledge donations in support of our long-standing mission of "advancing equity." By making a contribution, individuals can actively participate in advancing the mission of the centers and contribute to the betterment of families within their community.
Conclusion:
In this episode of Russell on the Move, we had an enriching conversation with Brother Scott Love, the Executive Director of LISC Louisville. Scott imparted invaluable insights into LISC's 10-year initiative, Project Ten X, and emphasized the importance of black leadership in addressing economic inequality and advancing equity. As chair of the Deacon Board at St. Stephen Church, Deacon Love also appealled to ROTM listeners to be encouragers of one another and to always look for ways to be source of positive energy in honor of God's commandment to "love thy neighbor."
Mark 12:30-31 says, "And you must love the Lord your God with all your heart, all your soul, all your mind, and all your strength. The second is equally important: Love your neighbor as yourself. No other commandment is greater than these."
As we navigate the path towards a more equitable future, let us remember that change starts with us. We can support organizations like LISC Louisville, Louisville Central Community Centers, and others working tirelessly to empower communities, uplift families, and break down barriers. Together, we can create vibrant neighborhood conditions that allow children, adults, and businesses to thrive socially, academically, artistically, and economically—the core vision of Russell on the Move!
Until the next episode, stay safe and blessed as we continue our journey of learning, empowering, and moving forward towards a brighter and more inclusive future.
To find out more about LISC Louisville, their initiatives, and how you can get involved, visit their website at lisc.org/louisville.
Click below to listen to the entire podcast: