The LCCC Lifetime Achievement Award was created to recognize outstanding leaders who have had a national impact through their work, deeds and service and who have demonstrated s steadfast commitment to self-reliance and the pursuit of excellence. The Lifetime Achievement Award is also aimed at recognizing individuals who's career accomplishments have demonstrated significant impact toward advancing the success of the African-American community , especially so who those accomplishments have impacted west Louisville. This special award is presented once every five years at the Annual Meeting of LCCC.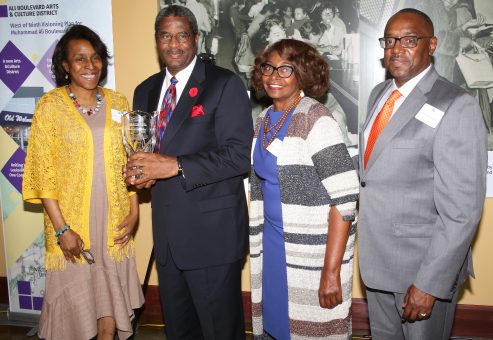 This year's Lifetime Achievement Award was presented to Dr. Raymond M. Burse during LCCC's 70th Annual Meeting, held on Wednesday, May 16, 2018 in the Atrium of the Old Walnut Street.
Dr. Burse is a Harvard educated lawyer, and businessman who served two terms as the ninth and fourteenth President of Kentucky State University. He also served as Vice President and General Counsel for GE Appliances and Lighting from May 2002 until August 2012. Dr. Burse has a long and impressive record of achievement in academics, athletics, and community service. He is known for taking a $90,000 a year pay cut from his $350,000 salary so that his fellow employees could be paid a living wage.
The youngest of twelve children, he was born on June 8, 1951, in Hopkinsville, KY. After graduating tenth in a class of 325 students from Christian County High School, Dr. Burse declined several football scholarships and elected to attend Kentucky's Centre College in Danville, KY, where he majored in chemistry and mathematics. At Centre College, he was a member of the American Chemical Society and the Black-White Coalition. He also served as vice president of Omicron Delta Kappa and founder and three-year president of the Black Student Union. Active in student government, Dr. Burse served as an advisor to the President of Centre College and as treasurer of the "C" Club.
At the end of his college career, Dr. Burse's achievements were recognized by three distinct honors: he was named to Who's Who in American Colleges and Universities; he won the Fred M. Vinson Honor Award; and earned the coveted Rhodes Scholarship. Dr. Burse spent two years at Oxford University, England, where he majored in organic chemistry and participated in basketball, track, crew, and rugby. He earned three "Blues," one in rugby, becoming the first black American and only the sixth American to achieve such distinction.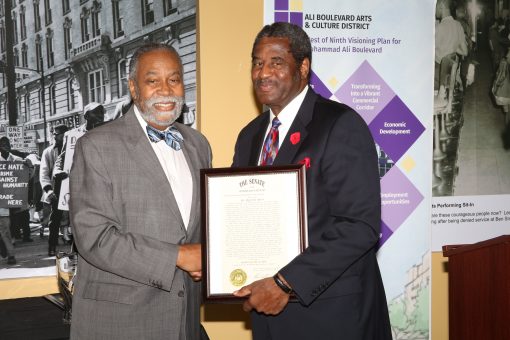 Dr. Burse is a recipient of the John W. Davis Award from the NAACP Legal Defense and Educational Fund. After receiving his Juris Doctorate, he returned to Kentucky to practice with Wyatt, Grafton & Sloss, now Wyatt, Tarrant & Combs, Attorneys-at-Law, prior to his first tenure as President of Kentucky State University.
Dr. Burse and his wife, Kim, have three sons, Raymond Jr., Justin, and Eric.
LCCC salutes Dr. Raymond M. Burse – a great community leader, a great businessman, a great administrator and a great role model for family leadership – for receiving its 2018 Lifetime Achievement Award.