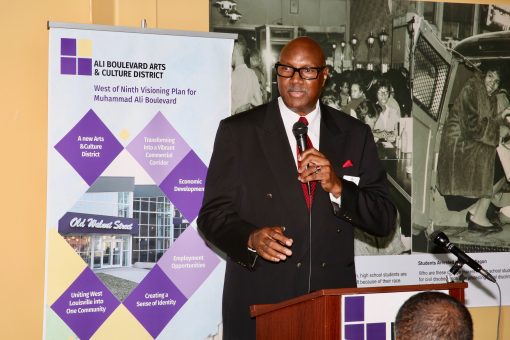 LCCC's community service awards are given to entities that make significant contributions to LCCC and the general community in support of its mission of advancing self-reliance by increasing competence and confidence among individuals and families in our community. LCCC was proud to recognize two organizations with community service awards during its 70th Annual Meeting.
Concerned Pastors of Louisville – Faith-Based
The Concerned Pastors of Russell (CPR), co-led by Rev. David Snardon and Rev. Dr. Geoffrey Ellis, has been a strong and faithful support group to LCCC over the past 2 years. CPR Members include: Rev. David Snardon of Joshua Tabernacle Missionary Baptist Rev. Barbara Haigler of Broadway Temple AME; Rev. Dr. Geoffrey Ellis of Asbury Chapel Missionary Baptist ; Rev. Gregory Wright of Plymouth Congregational; Rev. Kennedy Luckett of Magazine Street 7th Day Adventists; Rev. Lois Caldwell of Phillippian Baptist ; Rev. Reginald Barnes Sr. of Brown Memorial CME; Rev. Troy Duncan of Christ Center Ministries; Rev. Gerald Joiner of Zion Missionary Baptist; Rev. Angus Dickerson of Spillman Memorial Missionary Baptist; Rev. Dr. Valerie Washington of Hughlett Temple Missionary Baptist; and, Bishop Walter Jones of Baptized Pentecostal.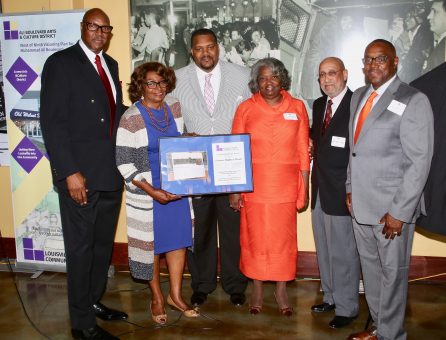 The CPR has worked diligently in support of the Russell Choice Neighborhood Initiative, joining together with LCCC and other partners to advance plans for the Muhammad Ali Boulevard Arts, Culture and Innovation Corridor Plan ("The Greatest Mile". )
Fellow ministers of CPR have been long-standing advocates for economic empowerment for west Louisville. As anchor institutions and pillars of the historic Russell neighborhood, each Church affiliated with CPR have has played a pivotal role toward promoting economic opportunities for west Louisville, with a vision toward helping Russell to rediscover its glorious history when commerce thrived and job creation was realized.
Louisville Forward – Civic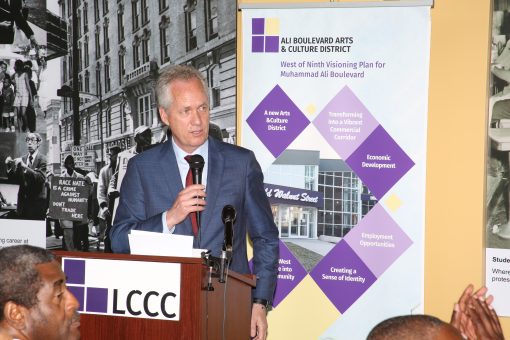 LCCC proudly recognizes Louisville Forward with the Civic Community Service Award. Louisville Forward employs an integrated approach to economic and community development, combining business attraction, expansion and retention activities, and talent and workforce attractions, with all of the city's real estate development, land use and planning and design functions to present a unified solution for job growth and quality of place.
LCCC honors Mayor Greg Fischer and the leadership of Metro's economic development chief, Mary Ellen Weiderwohl, and her excellent Louisville Forward team for their outstanding work on behalf of west Louisville including: the Arts, Culture and Innovation District along West Muhammad Ali Boulevard, from 5th through 22nd streets; the soon to come commercial kitchen and community theater at Old Walnut Street, as well as numerous other west Louisville initiatives.