On February 15, 2019, LCCC was joined by Mayor Greg Fischer, current and former 4th district Metro Council representatives (Barbara Sexton Smith and David Tandy), Fund for the Arts CEO (Christen Boone), Dr. Kevin W. Cosby of Simmons College, and a host of others to  announce its "Co-Creating the Grand Lyric Theater" campaign. This effort will empower our 70-year strong, non-profit to develop new a community performing arts, education and economic development facility aimed at improving the quality of life for children and families within Russell and nearby west Louisville neighborhoods.  "We're calling out to friends, near and far, who share our vision to transform neighborhood conditions that sustain generational poverty", said LCCC's CEO, Kevin Fields, Sr. "We're asking for your help in completing what is certain to become and very special arts space – The Grand Lyric Theater – a transformational place that will help prepare current and future generations in our community to be successful and productive citizens, through the arts."
To get involved, please donate directly via GoFundMe.
"Building Our Future by Restoring The Best Of Our Past"
Walnut Street was once a vibrant and thriving part of Louisville, home to prospering businesses, professional offices, restaurants and entertainment clubs, leaving its mark on the hearts of locals and visitors alike. Today, Walnut Street (now Muhammad Ali Boulevard) and the surrounding Russell Neighborhood in west Louisville is on the rebound from decades of severe economic distress.
LCCC is committed to the transformation of the historic Russell neighborhood with a focus on creating a more vibrant economic community condition within which children succeed, families become more economically stable and the neighborhood flourishes. Our vision is to co-create development of vibrant neighborhood conditions within which children, adults and businesses can thrive – socially, academically, artistically, and economically.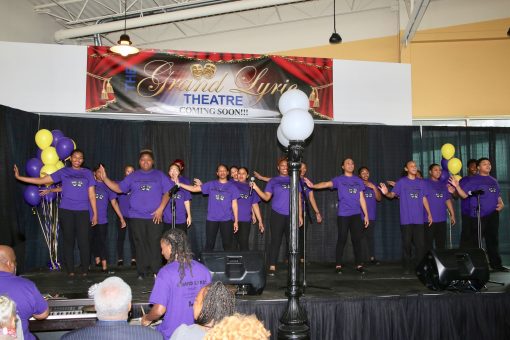 The goal of the  campaign is to mobilize and engage us all toward development of new commitments of cash and in-kind donations, estimated at approximately $1 million, that will empower us to complete The Grand Lyric Theater. This campaign is aimed at outfitting the interior of the newly built facility with stage, lighting, seating, audio visual systems, dressing rooms, rehearsal spaces and more. Our timeline calls for completion of the exterior facility structure by mid-2019; and, with final completion to occur by the end of the year.
To complete The Grand Lyric Theater, additional sponsorship and naming opportunities are available to support the following items and estimated costs:
• lighting, sound and recording systems – $265,000
• main stage, staging area and loading dock area – $140,000
• rehearsal, restrooms and dressing rooms – $270,000
• lobby, vestibule and restrooms – $250,000
• seating, coat check and storage – $280,000
Our campaign to support The Grand Lyric Theater and supportive facilities reflects strongly on LCCC's commitment to the west Louisville community. More importantly, it is a direct response to the transformation of Russell in a way that will reduce poverty by supporting a more economically diverse population.