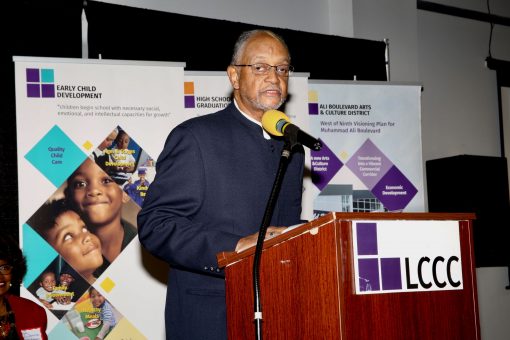 On March 21, 2019, the Rev. Dr. Geoffrey S. Ellis, a past president of the Interdenominational Ministerial Coalition, past LCCC Board Chair and well known community activist was presented, by LCCC board and LTJ Honor Society member Ben Ruiz, with this year's Lyman T. Johnson Distinguished Leadership Award during LCCC's annual meeting. Rev. Ellis is a Louisville native who was born in the Russell neighborhood and reared in Smoketown's Sheppard Square. He attended Booker T. Washington Elementary School, Jackson Junior High School and is a graduate of Louisville Central High School. He took his post-secondary education at Jefferson Community College, Simmons College of Kentucky, University of Louisville and the Louisville Presbyterian Seminary. As a career professional, Ellis is credited with many notable accomplishments during tenures with state and local government, over 22 years.
He served as special assistant to County Judge Executive Harvey Sloan and County Judge Executive and Mayor David Armstrong; and was appointed to lead human rights issues by Mayor Jerry Abramson. He worked to advance civil rights and equal opportunity while working for Kentucky Commission on Human Rights and Louisville Urban League. He successfully took on housing desegregation and discrimination matters aimed at helping the African American community to overcome the effects of "red-lining", making homeownership anywhere in Louisville possible for black families. At the Kentucky Commission on Human Rights, Ellis became the first community advocate concerning law enforcement and police matters. There, he fought to make sure our local police department took citizen complaints seriously.
As a business leader and entrepreneur, Ellis was co-founder of Ervin House, the first owned and operated African American half-way house located in west Louisville for ex-offenders. He also holds a very unique place in Louisville's black history as founder of the first black-owned shoe store located in west Louisville, "The Boot Gallery."
Rev. Ellis has been presented many awards and recognitions for his service to the Louisville community. In May of 2015, he was presented with an honorary Doctorate of Theology by Simmons College of Kentucky. Reverend Ellis has been married to the Reverend Deirdre Ellis for over 35 years; and, they have a total of six living children. The Ellis family recently built their new home in his beloved Russell neighborhood. LCCC's 2018 recipient of the Lyman T. Johnson Distinguished Leadership Award, the Reverend, Dr. Geoffrey Stephen Ellis lives by the creed: "If I can help somebody, then my living has not been in vain". Rev. Ellis currently serves as a volunteer Commissioner at the Louisville Metro Housing Authority.
Other community service awards were presented at LCCC's agency annual meeting. First, Clarence Glover – our board's vice chair – presented an award to Bill Price Broadcasting and the entire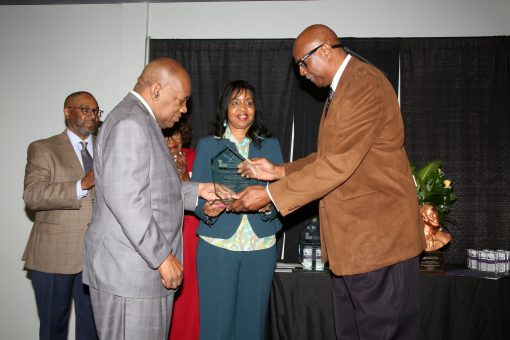 PraizePower 1350 WLOU, The New Praize 104.7 FM family, all brought by a great radio production team led by Bill and Angela Lee Price. The "WLOU Family" was honored with LCCC's Community Service Award because of its vital role in keeping us abreast of opportunities and issues affecting the black community. In addition to its award-winning leadership, WLOU is home to some of our community's most progressive talk shows. A few of them include: the Alliance Against Racist and Political Repression; Saturday Morning Solutions; The Justice Resource Center; and LCCC's Russell on the Move. The nationally syndicated Tom Joyner Morning Show also airs weekdays on WLOU, keeping us entertained and in tune with issues of importance to black America.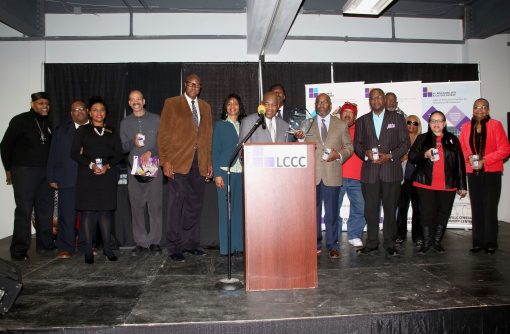 Bill Price Broadcasting is elite among our nation's owner-operated radio broadcast companies; and Bill Price, the man, is an iconic figure in the broadcast business. Bill has spent over 40 years developing programming and radio talent. He followed in the footsteps of William E. Summers, III, the first black person in America to manage a radio station and the first in Kentucky to own a radio station. Altogether, Bill, Angela and the WLOU family are using the power of radio media to bring out the best in our community.
A second community service award, presented by board secretary Dr. Anna Smith, was presented to Empower West, a network of faith leaders who joined with Dr. Kevin W. Cosby of Simmons College of Kentucky to address local effects of economic injustice. Empower West is a coalition of area church and institutional leaders seeking to unleash the educational, economic, and spiritual power of West Louisville residents so that they might maximize their God-given potential. Empower West's faith-based mission is to: "lift a prophetic voice that advocates with and amplifies the voices of those in West Louisville; help change the hearts of people in and outside of West Louisville so that people will see the importance of West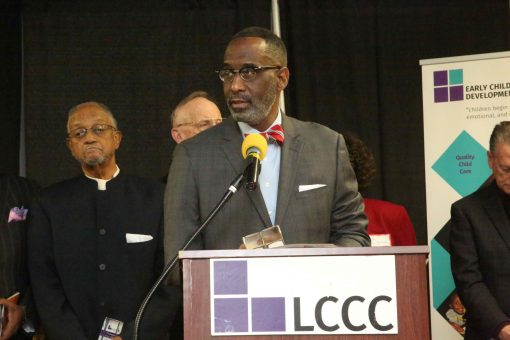 Louisville; find ways to increase economic and educational opportunity for residents of West Louisville; build bridges of reconciliation between churches and among members; and continually educate themselves and others as to how to bring our hearts to this in a long-term productive way."The leaders of Empower West represent: Burnett Avenue Baptist Church; Campbellsville University; Central Presbyterian Church; Christ United Methodist Church; Christ's Church for Our Community; Crescent Hill Baptist Church; Highland Baptist Church; Highland Presbyterian Church; Joshua Tabernacle Baptist Church; Nehemiah Baptist Church; Plymouth Congregational United Church of Christ; Ridgewood Baptist Church; Simmons College of Kentucky; St. Edward Catholic Church; St. Matthews Episcopal Church; St. Stephen Church; and, Sowers of Justice Network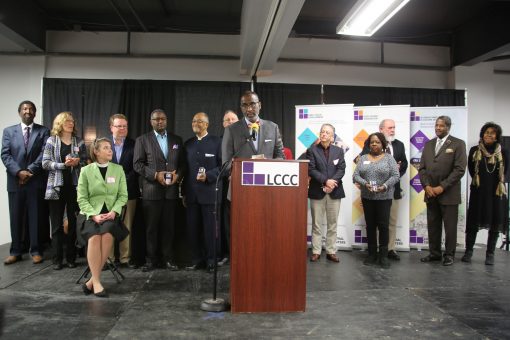 Empower West has stood up on issues important to the black community such has racial profiling and economic exclusion, requesting who are disenfranchised and neither voice nor place at the bargaining table. This coalition challenges racism and its socio-economic effects. A notable effort of this group is its "Community-Wide Book Read" series, which brings our community together across racial lines to address matters that have historically kept us apart, such as hatred, bigotry, public policy, economic redlining and more.
The Lyman T. Johnson Distinguished Leadership Award has been given annually since 199
1 to an individual who best exemplifies the spirit of Dr. Johnson through voluntary commitment to serving the citizens of the metropolitan area of Louisville in education, civil rights, and/or human or community service.
Click here to see a photographic slideshow of LCCC 2018 Annual Meeting and Lyman T. Johnson Awards Program, produced by Clinton Bennett.
Founded in 1948 as Market Street Settlement House, LCCC is a community-based family strengthening organization that serves over 4,000 persons from 1,000 low-income, disadvantaged families annually with services including early childhood education, youth education and development, workforce development, financial literacy and home ownership counseling.
Past recipients of the Lyman T. Johnson Distinguished Leadership Award:
2017    Elmer Lucille Allen
2016    Dr. Patricia A. Murrell
2015    Dr. Wayne Tuckson
2014    Teresa and Frank Bridgewaters
2013    Adolfo 'Ben' Ruiz
2012    George and June Merrifield
2011     Elaine 'Cissy' Musselman
2010    Sandra A. Frazier
2009    Dawne Gee
2008    Terry L. Singer
2007     Kevin W. Cosby
2006     Ulysses 'Junior' Bridgeman
2005      The late Rev. Louis Coleman
2004      Georgia Davis Powers
2003      Rev. C. Mackey Daniels
2002      Wade and Alice Houston
2001       William E. 'Bill' Summers, IV
2000      Suzanne K. 'Suzy' Post
1999       Ella Letitia Smith Roberts
1998       The late Frank Clay
1997        Mary Green
1996        Phillip D. Bond
1995        Helen D. Bennett
1994        Rev. Lincoln N. Bingham
1993        Milton R. Dohoney, Jr.
1992        Willie Gray
1991         Lizzie G. Miller
Past recipient of the LTJ Lifetime Achievement Award are:
2018                Dr. Raymond Burse
2013                Dr. James Ramsey
2008                Sculptor Ed Hamilton
1998                Judge Nick King
Event recap produced by Kevin C. Cosby:
#     #     #     #     #