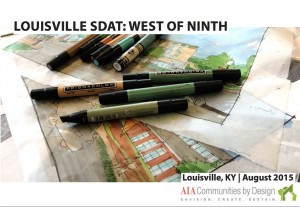 The "West of Ninth" Sustainable Design Assessment Team (SDAT) project engaged over 200 key community stakeholders to uncover alternatives for using urban design, mobility, and green infrastructure to leverage the rich history of Muhammad Ali Boulevard, west of downtown Louisville. This SDAT project was led by Michael R. Davis, FAIA, a Principal and Vice President at Bergmeyer Associates, Inc., Boston, Massachusetts, and a multi-disciplinary national team of planning and design experts coordinated by the American Institute of Architects.
The project asked local residents, designers, planners, and community partners to consider how potential near-term, strategic investments can catalyze broader community revitalization in the context of LCCC's vision for economic transformation. The report produced by this project team contains recommendations and tools to support economic development policy making and community decision making in west Louisville, as well as strategies for future community investment and growth.
Download the report here: Louisville SDAT Final Report.
Inquiries, questions or comments can be directed to kfields@lcccnews.org.