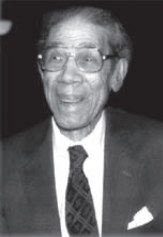 The Lyman T. Johnson Distinguished Leadership Award was created by LCCC in 1990 for the purpose of recognizing, annually, a local resident(s) who have a record of demonstrating the humanitarian character of Dr. Johnson. LCCC also presents a Community Service Award to residents who perform outside their work function to make Metro Louisville a better place to live though activism, community and/or volunteer service. Nominations are accepted on a year-round basis.
The LTJ Award is given to a local resident who has made substantial contributions in leadership and community service. The recipient receives a sculptured bust of Dr. Johnson, designed by artist William Duffy.
The nominees should exemplify the qualities and character of volunteerism, community service, and leadership that has or is positively impacting residents of the Greater Louisville community. The community and LCCC's Board of Directors honor the award recipients during its Annual Meeting.
A committee of the LCCC Board of Directors screens nominations.  Nominations are accepted throughout the year.