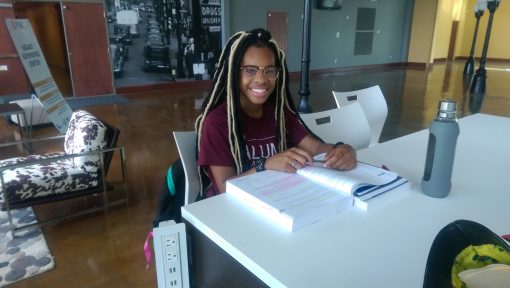 A ride to LCCC for the PNC Gigabit Experience Center has become routine for recent college graduate, Dari'anne Hudson, who now frequents the Center to study for the Law School Admission Test (LSAT).  "I'm home finally.  I just came back from the Evangel University in Springfield, Missouri, where I earned a Bachelor of Science degree in political communications.  And, I've discovered this is a great place for me to study," Ms. Hudson said.   The seating and high speed internet access give her a chance to catch up on the latest news online, and settle into a study routine in a convenient location, with parking accessible right in front.
She comes over at least once a week and, as the oldest sibling in the family, she has recommended it to her extended family which include middle and high schoolers, as well as toddlers.  In the Fall 2018, Dari'anne plans on entering the University of Louisville law school program, but right now she is working and studying at the PNC Gigabit Experience Center.  Several days a week she works for New Directions Housing Corp. as a VISTA member.
Louisville Mayor Greg Fischer's Office of Innovation and Performance Improvement spearheaded start-up of the Gigabit Experience Center in partnership with LCCC. The Center provides access to use of ultra-high-speed internet and special community engagement events that feature different aspects of technology.
LCCC CEO, Kevin Fields, recently stated, "to achieve digital inclusion, all citizens must be able to access affordable, convenient, reliable, fast, and full (not exclusively mobile) internet access. The problem is partly about infrastructure and partly about affordability. Internet access should be available in Louisville in the same way as water or electricity."
Mayor Fischer launched the Center in May stating, "It's time to remove barriers to success for our citizens who all need digital access, skills and hardware to obtain jobs, earn degrees, and help make Louisville Metro better every day."  The Digital Inclusion Plan supports Mayor Fischer's Cradle to Career initiative. This plan helps assure that Louisvillians get the training they need to compete in our 21st century economy.  You can find out more information and the city's digital inclusion plan at:  http://digitalinclusion.louisvilleky.gov/