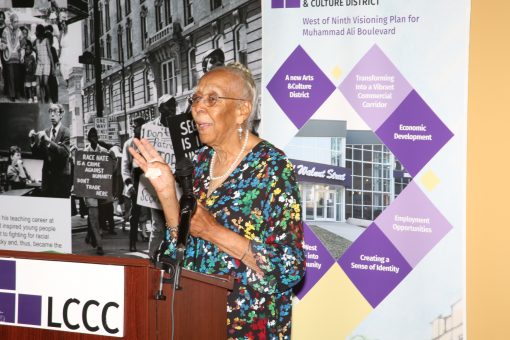 During the agency's 2017 Annual Meeting, LCCC presented the Lyman T. Johnson Distinguished Leadership Award to Elmer Lucille Allen.
Ms. Allen is a Louisville native and a former resident of the Russell neighborhood. She is a graduate of Louisville Central High School (1949), Nazareth College (Now Spalding University)(BS-1953) and University of Louisville (MA-2002).
She is known for becoming the first African American Chemist at Brown-Forman Corporation from where she retired as a Senior Analytical Chemist after 31 years of service, in 1997.
As an active community leader, Ms. Allen has been an instrumental figure in many community development initiatives, including formation of the Chickasaw Little League in 1969, and the Kentucky Coalition for Afro-American Arts, Inc. (founded in the early 1980's) that she led for almost 10 years and published two directories of artists and arts organizations from accross the Commonwealth of Kentucky.
Two theatrical plays have been written that tell partial stories of the life of Elmer Lucille – Alice Moments: Echos, Ripples and Light (2003); and, Bourbon Babes of Kentucky (2014), which was performed arecognitions for Ms. Allen are numerous. She is a member 0f Alpha appa Alpha Sorority, Inc. – Eta Omega Chapter – where she earned the Dorothy Buckhanan Wilson Outstanding Golden Soror Award. She was recognized by the Center for Neighborhood – 2017 Summit Awards, Neighborhood Leadership Award; Outstanding Community Leader by Metro Council (2016);  and  she earned the Kentucky Museum of Arts and Crafts First Art and Advocacy Award 0 Bourbon Bash (2015), just to name a few.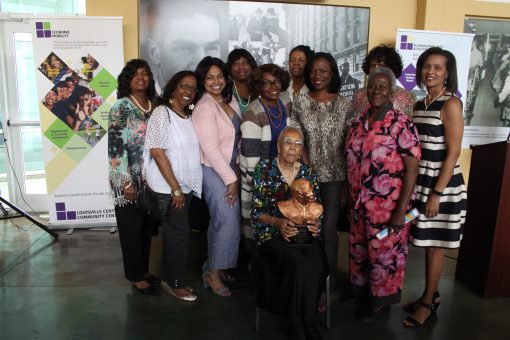 Multiple publications have featured Elmer Lucille, including: Leo Weekly; Louisville Arts Black and White; The Kentucky African American Encyclopedia; and Louisville Magazine.
Allen loves the arts. She frequently attends workshops and/or conferences that are arts-related when ever possible. She is a member of West Louisville Women's Collaborative, Phi Kappa Phi Honorary Society; Sisters of History; Louisvillle Clay; Louisville Area Fiber and Textile Artists; and, the Passport Arts and Culture Committee. She was recently appointed by Mayor Fischer to serve of the Metro Public Art Commission.
She is a mother of three, a grandmother, a great-grandmother, a widow, and a caregiver of her 96 year old step-aunt. Elmer Lucille is also a breast cancer survivor. In spite of this she always makes time to create art, to help family and friends and to serve our community.
Congratulations Elmer Lucille Allen!